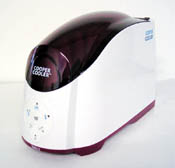 Speed—currently the fastest appliance/method to quickly chill beverages when they are stored at room temperature or are already refrigerated but still not cold enough due to inconsistent chilling or desire for even lower temperatures.
Reliability—able to consistently chill beverages to an exact temperature without altering any beverage properties like taste and carbonation.
Versatility—can chill almost any sized single-serve beverage in any container material like aluminum, glass, and plastic. In addition, they can chill wine bottles.
Space efficiency—beverages can be stored elsewhere, freeing up valuable refrigerator space allowing more room for other perishables. These space issues can be more acute in the office break room or dormitory setting.
Ease of use—simple appliance using inexpensive, non-toxic, and readily available materials. Short setup time/procedure and easy to maintain.
Innovative—"first of its kind" truly functional consumer electric rapid beverage chilling appliance.
Energy Smart—don't spend money keeping your drinks cold -- chill them on demand instead!